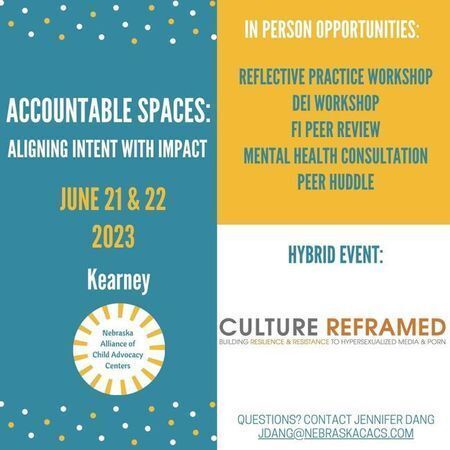 2023 Mini-Conference: Accountable Spaces: Aligning Intent with Impact
This 1.5 day statewide mini-conference opportunity is for all CAC staff (Directors, Supervisors, Coordinators, Forensic Interviewers, Advocates, Mental Health) and MDT partners. Attendees will participate in workshops, presentations, and interactive sessions that encourage accountability for themselves and those they serve. Register now.
2023 Virtual MDT Lunch and Learns
The Nebraska Alliance of Child Advocacy Centers is serving up the knowledge and information your MDT needs on key topics and trends in child protection and child and family well-being. Join us as for our Virtual Lunch and Learn Series. Learn more here!
A Community Response to Problematic Sexual Behavior
The goals of A Community Response to Problematic Sexual Behaviors (PSB) Learning Community are to:
Increase shared awareness and understanding of PSB

Increase awareness of available PSB specific resources

Broaden perspectives and enhance skills needed to respond to PSB

Provide space and opportunity for collaboration and partnership in serving PSB

Expand and enhance available resources to meet the needs and improve outcomes for PSB
For more information visit here!
Nebraska Alliance Orientation 
Join us on August 2, 2023 from 12:00-1:00 CST for Nebraska Alliance Orientation! Register here.
Medical Trainings
More information to come! Please reach out to Kristin with any questions.
Mental Health Consultations
Virtual Mental Health Consultations occur the 2nd Tuesday of odd months and the 2nd Thursday of even months from 12:00-1:00 CST. If you have additional questions, please reach out to Katie Good, our Mental Health Coordinator.