Jennifer Dang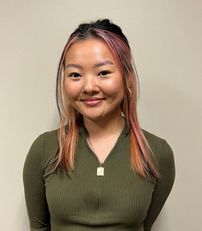 Jennifer Dang is the new Outreach and Training Specialist with the Nebraska Alliance of Child Advocacy Centers. She works closely with the Director of Membership and Programs to implement results-based technical assistance to support best practices towards Child Advocacy Center (CAC) accreditation standards with particular emphasis on forensic interviews, medical, and other accreditation standards.
Jennifer graduated from the University of Nebraska at Omaha (UNO) with a bachelor's degree in psychology and concentration in mental health. She is also currently in progress with her master's degree in student affairs in higher education. Prior to joining the Nebraska Alliance, she worked closely with college students at UNO as a peer mentor and most recently as an academic advisor in the College of Business Administration to support students academically, professionally, and personally by effectively using practices that align with her purpose and mission.
Jennifer is passionate about Diversity, Equity, Access, and Inclusion (DEAI) and has been part of multiple DEAI committees, a book club, and empower Diversity, a community small group through Inclusive Communities. In her free time, Jennifer enjoys traveling, trying out new restaurants, watching reality tv, listening to podcasts, and spending time with her partner, friends, and family.