Wednesday, May 17th from 12:00pm-1:00pm CST
Calling all Multidisciplinary Team members!
Join us for our 2023 Virtual MDT Lunch and Learn Series!
The Nebraska Alliance of Child Advocacy Centers is providing training opportunities on topics and trends in child protection and child and family well-being. Additionally, topics have been requested by CAC and MDT members statewide, and we are happy to fill that need!
MAY: Implicit Bias and the Courts
Join us to learn more about implicit bias, definitions, impacts, and how to mitigate it presented by Honorable Stefanie Martinez.
This training meets Nebraska Revised Statute 81-1414.07, regarding a minimum of two hours of implicit bias training per calendar year for law enforcement. This training would qualify for one of those hours. Please share this training opportunity with your law enforcement partners, as well as any MDT member.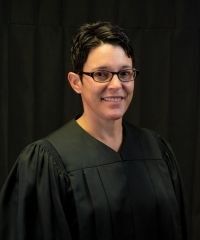 Honorable Stefanie A. Martinez
Judge Martinez has been the presiding District Court Judge of the 2nd Judicial District which covers Cass, Otoe, and Sarpy counties since 2017. To learn more about her, visit the State of Nebraska Judicial Branch website.
This series can meet statutory training requirements for MDT partners, continuing education contact hours and the 2023 CAC Accreditation Standards fulfilling components of Diversity, Equity and Access for CAC Staff.
Questions? Contact Kristin Chandler