The Nebraska Alliance provides statewide leadership in the fight against child abuse while working with our member Centers, the seven Child Advocacy Centers (CACs) located throughout Nebraska.  The Nebraska Alliance is dedicated to the multidisciplinary, child advocacy approach and a coordinated, comprehensive response to child abuse throughout all of our state's 93 counties.
The Nebraska Alliance provides the seven CACs grant opportunities, training opportunities, legislative action/education, the communication on child welfare issues, and support for their individual center's accreditation - a cadre of services which are rooted in the enhancement of the national CAC model.  Through this relationship, the seven CACs are able to fulfill the Nebraska Alliance's vision by providing consistent, high quality services to Nebraska's children.
What does the Nebraska Alliance provide?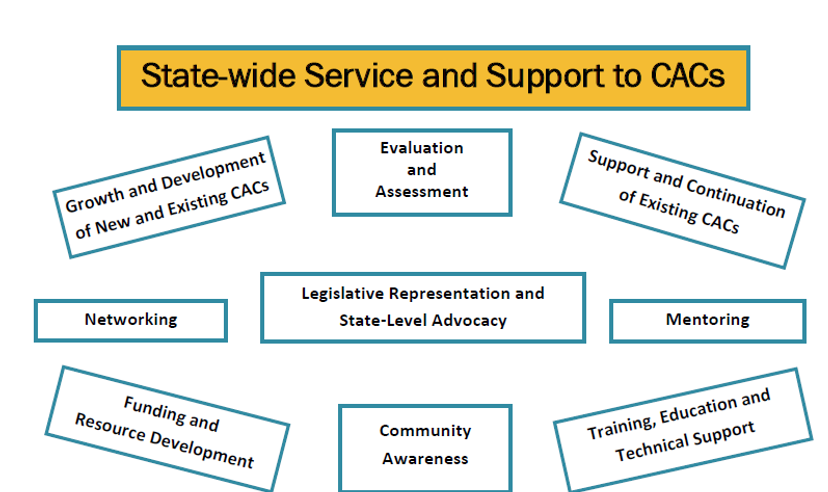 The core services provided by the Nebraska Alliance are:
•    Maintaining Standards and Integrity of the Child Advocacy Center Movement
•    Growth and Development of New and Existing Centers
•    Support, Continuation of Existing CACs
•    Networking/Support/Mentoring
•    Community Awareness
•    Evaluation and Assessment
•    Funding/Resource Development
•    Legislative Representation and Advocacy at State level
•    Training for the CACs, Law Enforcement, Department of Health and Human Services, Attorneys, Schools, Medical, Mental Health, and other Community Professionals